War Profiteers Escalate Their War on Jobs - FIGHT BACK!
Alternative Methods for
Dealing with Terrorist Groups
MILESTONE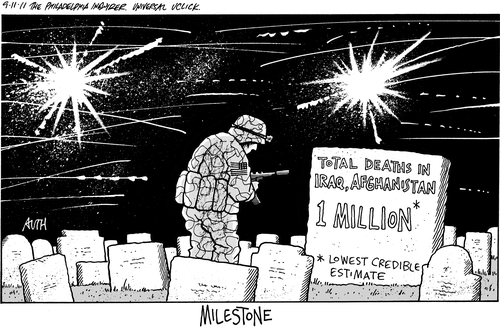 Let this MOMENT of SILENCE honor all who have died

---
10 Years After 9/11 -
The Dollars and Sense of War
AFL-CIO Tells Obama and Congress to End the Wars and Invest in America to Create Jobs
Executive Council issues strong statement following meeting with the President
". . . .There is no way to fund what we must do as a nation without bringing our troops home from Iraq and Afghanistan. The militarization of our foreign policy has proven to be a costly mistake. It is time to invest at home. . . ."
Read More »
---
"....Two lengthy and expensive wars should not force billions of dollars in cuts to Medicaid, shifting costs to states and ultimately children, vulnerable seniors and people with disabilities...."
Gerald McEntee, President, AFSCME

MORE
---
Rapid Withdrawal???
Some media herald the Obama plan to draw down troops in Afghanistan (33,000 between now and September, 2012) as "rapid withdrawal" or a "significant" reduction. But in fact, a reduction of 33,000 still leaves twice as many US. troops in Afghanistan as when Obama took office. MORE. . . .
---
---
Why Should Taxpayers Pay Military Contractors to Lobby for More Contracts?
Read More »
---
Massive Demonstrations Shake the Centre of Southern Oil Company in Basra, Iraq

Read More »
---
Oregon Labor Leaders Tell Congress to End the War in Afghanistan
Read More »
---
A Special Message
from Congresswoman Barbara Lee (D-CA)
Read Barbara Lee's Op-Ed Article in USAToday

---
Osama bin Laden is gone . . .
but the war in Afghanistan grinds on.
USLAW statement and supporting materials.
Read More »
USLAW 2011 National Leadership Conference Report
USLAW 2011 National
Leadership Conference Report

Report - Photos - Resolutions - Speeches
---
---
New Priorities Network Launched to
Move Money
from the Pentagon to the People
---
How much of your money
paid for the Afghan War?
Ever wonder how much you paid to fund the war? Use the Afghanistan War Tax Calculator to find out. We'll give you an I.O.U. for what you paid that you can forward to your Member of Congress. Ask for your money back!
---
---

Solidarity with Public Workers in Wisconsin is a Stand for Public Workers and Labor Rights Everywhere
[David Newby is President Emeritus of the WI AFL-CIO, not President as he is incorrectly identified in this video.]
Madison, WI, February 26, 2011
---
Victory
International Labor Solidarity Frees
Young Iraqi Journalists
Read More »
---
A Message from Workers of Egypt to the Workers of Wisconsin
Full text in English
---
What the US will spend on the Afghan War this year would plug the deficits for every state in the country that has one.
Following President Obama's latest State of the Union address, many politicians took to the airwaves to talk about proposed cuts to Social Security and Medicare. But, when asked by pollsters what they'd cut if they had to choose, the overwhelming preference of the American people was to cut military spending first, not Social Security or Medicare. [Source: http://www.nytimes.com/interactive/20... ]

We need to cut military spending on the Afghanistan War so we can fix problems here at home. This video effectively makes this point.
---
A picture worth a thousand words . . .
(Source unidentified)

---