Nelson Mandela PRESENTÉ
(18 July 1918 – 5 December 2013)
- more -

---
ANOTHER VICTORY for WORKER RIGHTS
and
INTERNATIONAL LABOR SOLIDARITY
All charges against Iraqi oil union leader dismissed
---
Disaster in the Philippines -
How You Can Help
Typhoon Haiyan (known in the Philippines as Typhoon Yolanda) will go down as one of the deadliest and most destructive weather events ever recorded - a surge, very high winds and torrential rains. The Philippine people need urgent assistance - here are ways about how you can help. -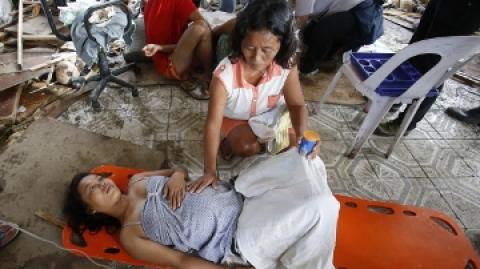 See more at: http://portside.org/2013-11-12/disaster-philippines-how-you-can-help-three-items
---
The Time Has Come for a Smarter Pentagon Budget
We wonder why . . . .
---
Antiwar Mobilization Thwarts Syria Attack
— for now!
Demanding the right to
HEAL!
Iraqis and U.S. military veterans are coming together to hold the U.S. government accountable for the lasting effects of war and to demand the right to heal.
A decade after the U.S. invaded Iraq, U.S. veterans, Iraqi human rights organizations and their allies launched a joint initiative, Right to Heal. Together, they are demanding that the human rights impacts of the war in Iraq be assessed and that concrete action be taken towards rehabilitation and reparations for those impacted by the lasting effects of the war.

to demand a hearing and for more information, go to: http://righttoheal.org

---
---
VICTORY!! International solidarity works!!!
Ten years of war, ten years of struggle:
A USLAW statement and appeal on the occasion of the tenth anniversary of the invasion of Iraq and founding of USLAW
TEN YEARS of war, protest and struggle
Today, March 19th, 2013, marks ten years since the U.S. illegally attacked, invaded and occupied Iraq - a nation that had not attacked us or posed any threat to our security.
It has also been ten years since the world rose up to proclaim its opposition to a threatened war in Iraq, as tens of millions of people poured into the streets of dozens of cities across the globe in what was the largest political demonstration in recorded history.
Bush and his co-conspirators did not heed the will of the people because they were listening to other voices - of oil and other corporate executives, generals, arms manufacturers, their lobbyists, and their wealthy patrons, political cronies and privileged friends.
Greed, hubris, arrogance and empire spoke louder than millions of people in the streets.
Last Letter
to George Bush and Dick Cheney
from a Dying Veteran
You may evade justice but in our eyes you are each guilty of egregious war crimes, of plunder and, finally, of murder, including the murder of thousands of young Americans—my fellow veterans—whose future you stole.

Incarcerated and on trial for his life for unmasking war crimes while those who committed the crimes live in luxury, enjoying the privileges of their class and wealth.

We won't get to Prosperity Street
by taking the Austerity Road!
Congressional Progressive Caucus Introduces
Focus on jobs and restarting the economy,
not deficits and cuts to social programs
CPC has plan to put America back to work
"....(T)he only thing the progressive caucus and Mr. Ryan share is audacity. And it's refreshing to see someone break with the usual Washington notion that political "courage" means proposing that we hurt the poor while sparing the rich...." [Paul Krugman]

Tenth Anniversary
of the Illegal and Immoral Invasion/Occupation of Iraq
So we'll never forget . . . .
America's Mystery Man in Iraq
"The Pentagon sent a US veteran of the "dirty wars" in Central America to oversee sectarian police commando units in Iraq that set up secret detention and torture centres to get information from insurgents. These units conducted some of the worst acts of torture during the US occupation and accelerated the country's descent into full-scale civil war."*

We're starting to figure out why the government pursued Bradley Manning so aggressively. Now, thanks to an investigation by the Guardian and BBC Arabic shows, we know our direct connection to Iraqi Torture centers and death squads. What atrocities happened, and how many innocents are dead? Cenk Uygur breaks it down.
---
F-35 Fighter Jet
Boondoggle Supreme
---
Wealth Inequality in the U.S. -
The Shocking Facts Revealed
Developed by the National Priorities Project (www.nationalpriorities.org)
Stat of the Week
Taxpayers in the top 1 percent of America's top 1 percent all grabbed at least $7.97 million in 2011 income. In a nation of over 158 million households, analyst David Cay Johnston points out, these 15,837 uber-rich households took in 39 cents out of every $1 in increased income Americans collected over the two years after 2009.
---
Catastrophic Pentagon cuts?
Not really!
---
February 15, 2003 - A global day of protest remembered
Tens of millions worldwide took to the streets seeking to prevent the illegal invasion of Iraq - the largest demonstration in human history!
More
We Are Many - The Biggest Protest In History
This is the trailer for the anti-war protest which took place globally on the 15th February 2003. Filmmaker Amir Amirani wants to document this truly incredible event but needs your donation to make it happen?
Join the community and share your stories at
http://www.wearemany.tv/
---
The U.S. Military: Afflicted by General Excess and Excess Generals
"....America's military is astonishingly top heavy, with 945 generals and admirals on active duty as of March 2012. That's one flag-rank officer for every 1,500 officers and enlisted personnel. With one general for every 1,000 airmen, the Air Force is the worst offender, but the Navy and Army aren't far behind. For example, the Army has 10 active-duty divisions -- and 109 major generals to command them. Between September 2001 and April 2011, the military actually added another 93 generals and admirals to its ranks (including 37 of the three- or four-star variety). The glut extends to the ranks of full colonel (or, in the Navy, captain). The Air Force has roughly 100 active-duty combat wings -- and 3,712 colonels to command them. The Navy has 285 ships -- and 3,335 captains to command them. Indeed, today's Navy has nearly as many admirals (245 as of March 2012) as ships...." Read the full exposé